Date: 4.4. - 5.5.2023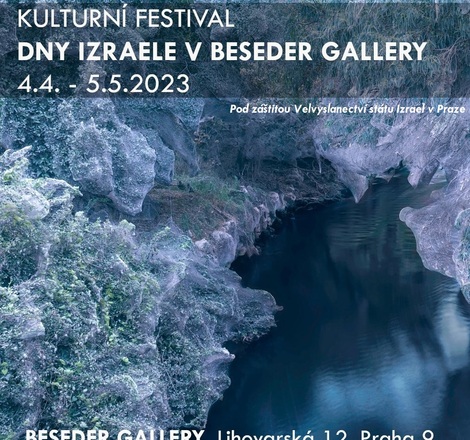 We invite you to the DAYS OF ISRAEL DAYS cultural festival, which will be held in our gallery btween 4.4. - 5.5. 2023.
The festival will include a rich cultural program, lectures, concerts, workshops, theatre etc.
During the entire festival, the exhibition "ATONEMENT" by Helen Mountaniol and the musician Kutiman will take place in our gallery.
The festival is taking place under the patronage of the Embassy of Israel in Czech Republic.

• 4.4. - 19:00
OPENING OF THE EXHIBITION "Atonement"
photographer Helen Mountaniol and musician Kutiman

• 6.4. - 5:00 p.m
Jewish holiday PASSOVER
with Sylvie Wittmann

• 11.4. - 19:00
JAZZ CONCERT Petra Ernyei Trio
"From Synagogue to Hollywood"

• 12.4. - 19:00
LECTURE Prof. RNDr. Joseph Maftoul, PhD.
"Into the depths of matter: how does today's science see reality?"
• 13.4. - 18:00
AN EVENING with Pavlína Šulcová and Kakalík's COMICS
"So here we are, Moses!!!"

• 23.4. - 13:00
CONCERT of young musicians
on the 75th anniversary of Israel's independence

• 23.4. - 15:00
Jewish CHALA BAKING WORKSHOP
with Petra Ernyei
• 25.4. - 19:00
MA THEATER
 Kressmann Taylor - Address Unknown
Directed by Marianna Arzumanová

• 4.5. - 19:00
CZECH-ISRAEL RELATIONS
Discussion by Michael Žantovský and Eugen Roden
moderated by Lenka Zlámalová
followed by musical theatre performance by pianist Marina Kantor J. S. Bach - La Partita (Hra)

• 5.5. od 19:00 
CEREMONY ENDING OF THE ISRAEL DAYS FESTIVAL
Dernisage and artist talk of the exhibition Helen Mountaniol, Kutiman - "Atonement"
Musical-theater performance by pianist Marina Kantor J.S. Bach - La Partita (Play)

(You can find more information about individual events in the link by clicking on the name)