Date: 23. 4. 2023 - 13:00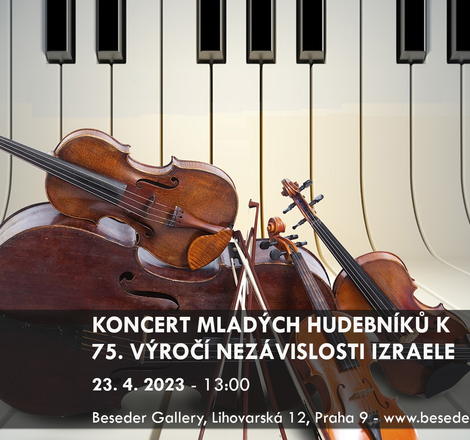 A concert of young musicians from Prague music schools and from the Prague Jewish Community Lauder schools.

The program will include works by Johann Sebastian Bach, Jan Křtitel Vaňhal, Ludwig van Beethoven, Peter Ilyich Tchaikovsky, Zdeněk Fibich and others.

Coordinated by Israeli fashion and costume designer Marina Mundryan.

The concert will take place as part of the monthly cultural festival Israel Days organized on the occasion of the 75th anniversary of Israel's independence, and in which the Beseder Gallery will also offer an exhibition with works by photographer Helen Mountaniol and musician Kutiman, the theatre performance Address Unknown directed by Marianna Arzumanova, based on the eponymous work by Kresmann Taylor, a discussion on Czech-Israeli relations, a signing of the comic book "So here we are, Moses!!!" by writer Pavlína Šulcová and artist Kakalík, a jazz concert by the Petra Ernyei Trio, a workshop for adults and children on baking the Jewish holiday bread challah and many others.
The festival is under the patronage of the Embassy of Israel in Czech Republic.

Admission free.

The concert will be followed by a commented visit of the exhibition Helen Mountaniol - Atonement, then from 15:00 by a drawing workshop by artist Hana Alisa Omer.