Date: 11. 4. 2023 - 19:00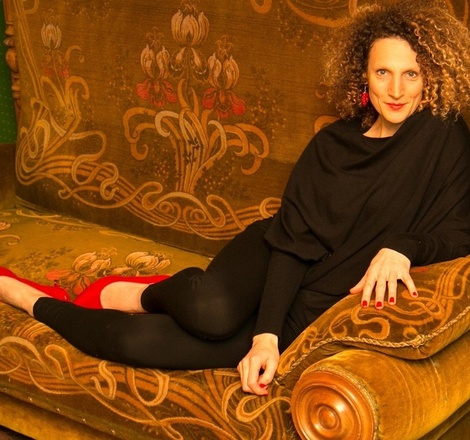 Jazz concert by singer Petra Ernyei, guitarist Adam Tvrdý and double bass player Petr Dvorský.

Songs from the heart - that's what awaits you at jazz singer Petra Ernyei's concerts. With her trio, she is taking us on a journey exploring her Jewish roots, with songs included on her latest album titled This Is Me. Together, they will take you on a musical journey, from the traditional Sephardic Scalerica de Oro to the unforgettable Papa Can you hear me by Barbra Streisand to musical hits by Jewish composers Kurt Weil and George Gershwin.

"When I close my eyes, I see a little girl running between the dining tables in Prague's Jewish Community. Enthusiastically helping the curly-haired waitress serve lunch. Receiving smiles and caresses from the old women sitting there. Above the entrance to the dining room is hanging a photograph of Barba Streisand, who was filming the movie Yentl in Prague at the time – this was 1983 – in which I appeared as a child extra. At home, I can smell my mother's pancakes – there are musicians everywhere, my father is playing the banjo, I am dancing and singing and maybe, that's when I caught the bug and became convinced that I will be singing my whole life..."
Petra Ernyei

Petra Ernyei was born in Prague and grew up in a musical environment. Her father, Andrej Ernyei, was born in England to Hungarian-Slovak parents and was a respected traditional jazz musician. Petra performed for the first time at the age of 18 at the Sacramento jazz festival. She then became a member of the Prague Swing Orchestra. Between 2008 and 2019, she led the Petra Ernyei Quartet with which she recorded the album So many Stars.

The Petra Ernyei Trio has been active on the Czech jazz scene for several years now and is also performing internationally. Stylistically, the ensemble's repertoire focuses on jazz standards in original arrangements and on original compositions. In Czech Republic, Petra Ernyei is mostly known for her swing style, but here, she is exploring more modern sounds and drawing inspiration from other musical genres. Her collaboration with players Adam Tvrdý and Petr Dvorský, known for their progressive approach pushes her to experiment in that direction. Tonight, they will present a series of compositions echoing Jewish music.

The concert will take place as part of the monthly cultural festival Israel Days organized on the occasion of the 75th anniversary of Israel's independence, and in which the Beseder Gallery will also offer an exhibition with works by photographer Helen Mountaniol and musician Kutiman, the theatre performance Address Unknown directed by Marianna Arzumanova, a discussion on Czech-Israeli relations, a signing of the comic book "So here we are, Moses!!!" by writer Pavlína Šulcová and artist Kakalík, a workshop for adults and children on baking the Jewish holiday bread challah and many others.
The festival is under the patronage of the Embassy of Israel in Czech Republic.


Admission voluntary