Date: 13.04.2023 - 18:00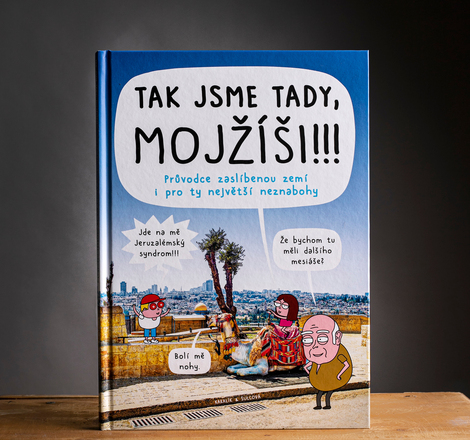 A playful evening around the comic of the same name with its authors, documentarian Pavlína Šulcová and cartoonist, animator and comic creator Kakalík.

Here We Are, Moses!!! is a comic book guide to the promised land for even those who know nothing about religions. Loosely based on the book and board game Are We There Yet, Moses?, which tells the story of the exodus of the Jews from Egypt.
Zdenda and Ráchel go on vacation to Israel with their grandpa Hugo. Apart from Jerusalem, they will also visit Tel Aviv, a kibbutz by the Sea of Galilee, the Golan Heights, the Negev Desert, the Masada Fortress and the Dead Sea. There is no shortage of sights to discover in Israel, yet this book is no ordinary guidebook. The authors introduce readers to this fascinating country in a complicated region, in a fun and understandable way. Moses himself will come to their aid, having only seen the promised land from afar as he died shortly before the Jews arrived there.
Here We Are, Moses!!! is also the authentic testimony of a journey through Israel that the authors undertook together while working on the book. Artist, illustrator and cartoonist Kakalík catches his immediate impressions, with his uncanny brand of humor for which he is famous for, while Pavlína Šulcová observes the country with the experience of the ten years that she lived in Tel Aviv and had the opportunity to get to know Israel and Israeli society from all possible angles.
The book was published by JCC Prague.
https://www.youtube.com/watch?v=ZSDmtG1qk1o

A small exhibition will also be set up, with a different look at the Ten plagues of Egypt, taken from Are We There Yet, Moses?,  and we will screen the animated video "Macískovi".

The event will take place as part of the monthly cultural festival Israel Days organized on the occasion of the 75th anniversary of Israel's independence, and in which the Beseder Gallery will also offer an exhibition with works by photographer Helen Mountaniol and musician Kutiman, the theatre performance Address Unknown directed by Marianna Arzumanova, a discussion on Czech-Israeli relations, a workshop for adults and children on baking the Jewish holiday bread challah and many others.
The festival is under the patronage of the Embassy of Israel in Czech Republic.

Admission free.