Date: 18.07.-08.08.2019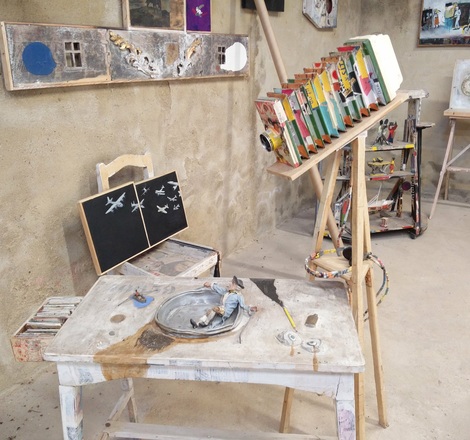 The new exhibition by Zvi Tolkovsky at Galerie Hala C is like a scene of a stage set of broken parts. Zvi is a collector of memories of old things he finds in the streets as well as in his personal and cultural memories.
With a history of over 50 years of art making, Tolkovsky brings together on the canvas, paper and in sculpture an entire world of images. His works are like mind maps of associations of dream-like narratives. The invented scenes are an amalgamation of bits and pieces of images Tolkovsky finds around him. He puts them on the paper or canvas and plays with the composition, like a child.
At first, the entire outcome seems like a mistake, but as the gaze lingers, one can create his personal narrative of associations based on the images. Histories of nations come alive; histories of places in Jerusalem, Prague, Central Europe and more, all take part in the landscape of fantasy. There is some reality. We can identify some of the locations, while others are invented during the artistic process.
The unique quality of Tolkovsky's art is the building up of a new world with the assistance of all the broken and neglected objects which no one, but the artist, wants. The art which is born is filled with surprising and unexpected riches of human imagination.
Professor Zvi Tolkovsky (born 1934, Haifa) lives and works in Jerusalem, Israel, and in a farm near Prague, Czech Republic. He lectures at the Bezalel Academy of Art and Design, Jerusalem. Tolkovsky is one of the most distinguished Israeli artists. He has been creating and teaching art for over five decades. Tolkovsky has exhibited extensively around the world in numerous exhibitions in Israel, Czech Republic, Germany, France, USA and more. He has been awarded many prizes for his artistic achievements, including the highest awards in Israeli art. His early works were expressionistic and experimental. Later he combined in his works pop art, collage and naïve painting. All these mediums are part of his current art which is personal and political at the same time.
Opening: 18.7.2019, 18:00
Exhibition of the Paintings: 18.7. – 8.8.2019
Curator: Hagai Segev