Date: 12.5. - 4.6.2022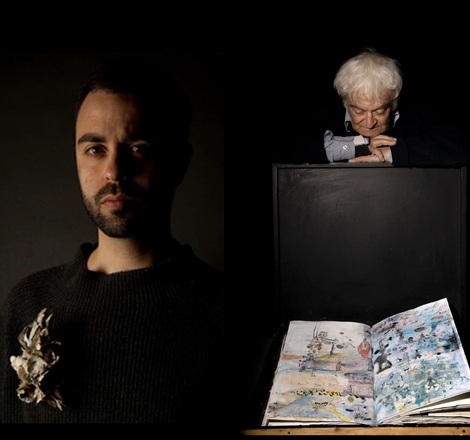 Zvi Tolkovsky and Attai Chen: Territories of Imperfection
Duration: 12.5. - 4.6.2022
Curator: Hagai Segev

Vernissage: 12th May 2022 at 19:00 
Event in the presence of Attai Chen (Israel and Germany)
The opening will include the theatrical performance THE MASTERS by Maria Gurevich and Masha Nemirovsky.

The exhibition is part of the "Days of Israel" - special events Beseder Gallery holds on the occasion of days of Independence following the Day of Independence of the State of Israel.

Territories of Imperfection, a two-men exhibition brings together the works of Zvi Tolkovsky and Attai Chen, close relatives, of the same family in life, with a close artistic association.  Tolkovsky works in painting and sculpture besides creating handmade paper works for his paintings and books. Attai Chen has taken handmade paper into the domain of jewellery.
Both artists work with the idea of inventing new narratives and ideas by presenting a collage of images in new formats, presenting ideas and perspectives on art, life, and nature. The paintings and jewellry that resemble small-scale sculptures are in fact mini landscapes of history and philosophy told in the way of art. They attract the eye and other senses by creating Territories of Imperfection.
Professor Zvi Tolkovsky (born 1934, Haifa) lives and works in Jerusalem, Israel, and on a farm near Prague, Czech Republic. He lectures at the Bezalel Academy of Art and Design, Jerusalem. Tolkovsky is one of the most distinguished Israeli artists. He has been creating and teaching art for over five decades. Tolkovsky has exhibited extensively around the world in numerous exhibitions in Israel, the Czech Republic, Germany, France, the USA, and more. He has been awarded many prizes for his artistic achievements, including the highest awards in Israeli art. His early works were expressionistic and experimental. Later he combined in his works pop art, collage, and naïve painting. All these mediums are part of his current art which is personal and political at the same time.
Attai Chen is an artist who is primarily working in the mediums of art jewellery and sculpture. Chen was born in 1979, in Jerusalem, Israel. Since 2007, he lives and works in Munich, Germany. "My work primarily deals with the fluid identity of matter and our relationship with it, says Chen, "I seek to create objects that represent a constant state of motion in their physical appearance and representation."
Chen's works have been exhibited in many solo and group exhibitions, including The Metropolitan Museum of Art, New York (2018), The Tel-Aviv Museum of Art; Tel-Aviv (2014); Pinakothek der Moderne, Munich (2010), and in many other around the world.