Date: 1. 2. 2023 - 19:00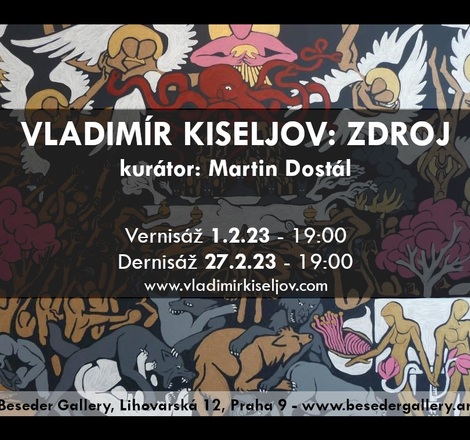 We invite you to the opening of an art exhibition by Vladimír Kiseljov "THE SOURCE", which will take place 
on Wednesday 1.st February 2023 at 19:00

Art exhibition curator: Martin Dostál

In this exhibition, the author deals with the themes of the primal source of life, immortality - and knowledge of the inner order of the world. Here we will see paintings on canvas, but also painted objects on Plexiglas, moving into the field of sculpture and scenography. The author has long been devoted to the life and work of selected composers, whose work he also writes about in his second book. However, he processes their work mainly through painting, painting performances at concerts, wall paintings, theater performances, etc.

-
About the author:

Vladimír Kiseljov is painter, performer, set designer, director and writer.
Graduate of Kunstuniversität Graz, SŠUŘ Brno and JAMU Brno.
He has realized over 100 solo exhibitions – including the International Biennale of Modern Art in Florence, Prague Quadrennial 2015 (the largest international exhibition of scenography), in Berlin, Vienna, Leipzig, Edinburgh, Copenhagen, Munich, Linz, 3 times in Prague at the Gallery of Critics, in Brno at Wannieck and Richard Adam Gallery, etc.
He also dedicates himself to the creation of murals (in 2015 he painted the largest mural in the Czech Republic with an area of 600 m2 in Tišnov, Brno). Other murals of his can be found in Florence, Copenhagen, Edinburgh or Prague.
In 2018, he was awarded the "Goldene W" for his work for Richard-Wagner-Verband. In 2018, together with the Macl + Luňáková team, he took part in the international theater festival in Casablanca, Morocco, with a painting performance combined with projections, winning the award for interaction.

He has written and published two books with his paintings and texts – The Mysteries of Richard Wagner in Paintings (2013) and The Mysteries Inscribed in Faces (2019). Vladimír Kiseljov's expressive paintings aim to convey his synesthetic perception of the world – the author perceives music and all other sensorial perceptions in color, thus connecting all the senses of the viewer with his paintings – colors, philosophical meaning, music, movement, space and time.
He is the author of his own artistic current – Synesthetism. He carries out unique musical- painting performances together with excellent musicians (Hansjörg Albrecht, Milan Al Ashab, Michael Bártek, Eduard Šístek, Ludmila Pavlová, Petr Kolař, Jaroslav Svěcený, Jan Ryant Dřízal, etc.)
His exhibitions are curated by Mgr. Vlasta Čiháková Noshiro Ph.D., Aleš Seifert, Alena Ochepovsky Bartková, Jiří Tichý and others.
Among the admirers of his work stands out the noble lady Meda Mládková, owner of the Kampa Museum, discover of F. Kupka.