Date: 12.2.22 - 16:00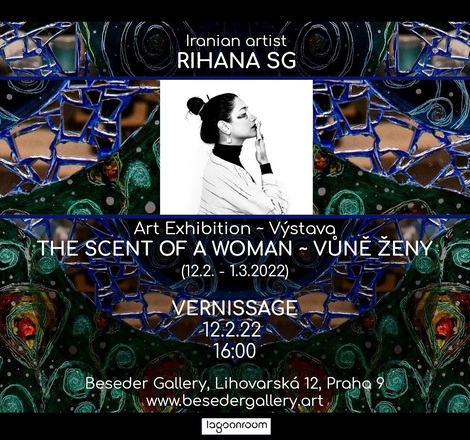 We cordially invite you to the vernissage of iranian painter Rihana SG, which will take place on Saturday 12th February at 16:00

Rihanas art is mostly about women and herself. She portray happiness, purity, sorrow, pain or gender inequality. All feelings or experiences that Middle East women go through in their lives. Colours of her paintings are shiny and bright which expresses iranian culture and environment - sun, relatives, friendship, sea and forest. Iran as a country with four seasons, different ethnic cultures, traditions or nature. 
Portraits of women that Rihana paints have long necks, because there are concentrated and blocked all the words or emotions women want to express. Their eyes are mostly closed as they are afraid to look into eyes of people who surround them. There are also different symbols such as fish (purity), pomegranate (heaven), birds (soul and love). Rihana address with her paintings what is often being ignored and she believes, that any woman from any country can find a little bit of herself in her artworks.
At the upcoming exhibition, the painter will present a unique series of completely new paintings, created especially for our gallery.
Reyhaneh Ghavipanjeh artistically known as Rihana SG is originally from the city of Babol, which is located in the northern part of Iran. Rihana studied graphic design and worked as graphic designer, but her hobby has always been painting with which she started as a child. Between 2007 and 2013 she lived in Malaysia where she learned a lot about Asian art of which features started to mix with her Middle East's style. In 2013 she moved to Europe and currently lives between Czechia and Slovakia.