Date: 12.02. - 27.02.2019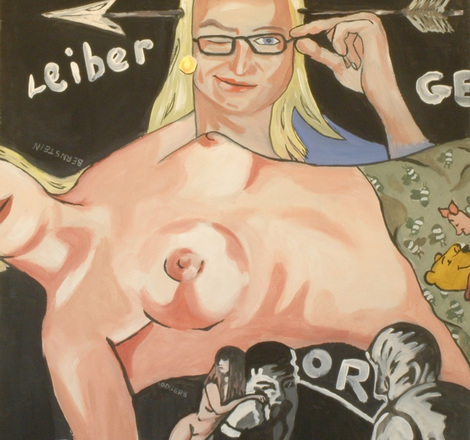 A first solo exhibition for the British, Michael Rowland, who has been living and making art in Prague for the past ten years. Rowland visited Prague and became fascinated by its beauty and history, art and culture. These have become the backdrop of his art.
The fascination Rowland finds in art as a language for depicting the world and the challenges of contemporary life will be presented in the exhibition by two series of paintings.
The "Artist As" works are a very large format paintings in which the artist depicts himself as a storyteller, as a martyr, as a dreamer, etc. The impressive paintings tell the story of social conventions and how the artist sees and feels in those circumstances: confident, awkward, relaxed or even as a deceased body surrounded by mourners.
Another series presents Pop art collages based on cartoons, caricatures of the modern world culture and music. The painted images are taken from many cultural contexts, all are part of Rowland's rich world of associations to music, literature and the world of movies. The paintings create a rich array, like a puzzle, that tells the history of modern life culture and its influence on everyday life.
"Art is a costume we wear", says Rowland, "a game we play; a story we tell; fun to be had and it just loves to dress up and act serious as hell."
Hagai Segev, Curator