Date: 30.11.2021 - 22.1.2022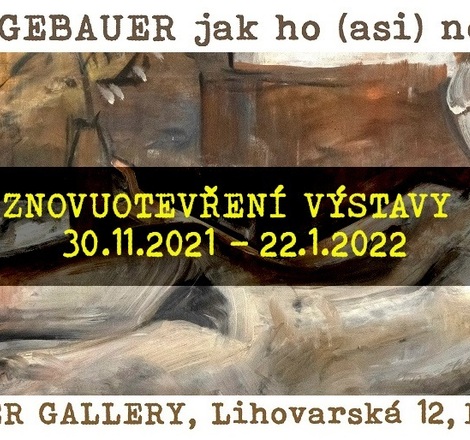 Kurt Gebauer as you (probably) don't know him
REOPENING OF THE ART EXHIBITION
30.11.2021 - 21.1.2022


A very special exhibition by Kurt Gebauer, which was created on the occasion of his 80th birthday, is reopened in our gallery due to great success. Although he is best known as a sculptor, this exhibition features his as yet unpublished paintings created in the 1950s and 1970s, as well as paintings on canvas from the last two years.
A book has also been published for the exhibition, which can be purchased at the neighboring Beseder restaurant. In it you will find reproductions of all paintings of the exhibition as well as poems and short stories by Kurt Gebauer.
The dominant feature of the entire exhibition is the popular theme of water, which has accompanied Gebauer continuously to this day. He considers water to be a source of joy and positive attunement, which must be transferred to the canvas and through it to the viewer. He is mainly inspired by floating and bathing figures. Swimmers, hardeners and all sorts of other water scenery are most often captured at the swimming pool in Hradec nad Moravicí, near the Žimrovský raft, and especially at the Džbán swimming pool in Prague, where he go swimming almost every day. The oldest artwork of swimmers is from the sixties.
The exhibition also features very unique portraits from the 1950s to the 1970s, including a self-portrait from the time of his studies. The so-called gallery "living room" among his first-born son Žanda's is dominated by Gebauer's wife Libuše. He liked to paint her before sewing and stuffing, for example alla Modigliani. A documentary, which premiered on Gebauer's 80th birthday, 18.8. at 18:00, can be seen in this historic television corner until the end of the exhibition. In it you will learn about his creative process of painting, exhibited paintings and that he is actually more of a painter than a sculptor, but few people believe him.
He has been very fond of painting with his own playfulness and ease since he was a child, but there has been little time for it so far. The artist is fascinated by creating works for a public space that can be seen by a large number of people. Whenever such an opportunity arose, he let himself to be swallowed up. Many statues and installations have been created throughout the Czech Republic and around the world, such as the statue of Mozart in Brno, the Heart on Václav Havel Square or the Caterpillar of Early Capitalism in Kulaťák, Dejvice.
It is also interesting that he does not have his own studio and paints on his balcony, from which he has a direct view of Václav Havel's villa. He perceives the very act of painting as a special synergy with nature, in which it is important to stop at the right time, when it gets dark, it starts to rain or the art process is disrupted by another, unpredictable reality. So it is not only he who paints, but the whole symbiosis of circumstances and nature that we have no influence on. "If we strive for it, we usually just mess it up and get lost," the author himself describes his unusual process of working with the painting, the outcome of which you can see for yourself.
In addition to the Beseder restaurant, the gallery is also connected to the brand new Kolčavka brewery, which is decorated with lithographs for sale by Gebauer.
-

ABOUT THE AUTHOR

Kurt Gebauer (August 18, 1941, Hradec na Moravicí) is a Czech academic sculptor, a Renaissance man, a tireless creative spirit, and inspirer.

He studied at the School of Arts and Crafts in Brno, the School of Sculpture and Stonemasonry in Hořice v Podkrkonoší and at the Academy of Fine Arts in Prague. In 1965 he completed an internship with Professor Otto Herbert Hajek in Stuttgart and in 1972 with Professor César Baldaccini at the Académie des Beaux-Arts in Paris. He was a stonemason and has been working as a freelance sculptor since 1969.
From 1990 to 2012, he was the head teacher of the Academy of Arts, Architecture and Design in Prague, in 1990 he was appointed associate professor and in 1992 professor at the Studio of Universal Sculpture. Today he is a professor emeritus. Since 2018 he has also been a professor at the Department of Art Education and Culture, UWB in Pilsen.

A typical feature of Gebauer's work is playfulness, humour and exaggeration, an effort to arouse emotions by deviating from the well-established and predictable order of public space, which he has been cultivating and managing for six decades. He explains his life mission with the ambiguous exaggeration of the "municipal sculptor".
His hard-to-class concept of live figuration confused not only the political censors of the pre-November regime, but also the art scene itself. Whether they were dwarves parodying social absurdity, sewn and stuffed swimmers floating through the air, girls' figures in motion or various spatial installations celebrating nature.

Gebauer is undoubtedly a great figure of the Czech 20th century, who does not change history by force, but by storytelling, gentle humour and deep humanity.
-
Among Gebauer's most famous students is David Černý, who is undoubtedly one of the most prominent figures on the contemporary Czech art scene. Černý himself calls Gebauer his "father" and refers to him in many ways. He is very closely connected with our gallery, as he designed a crossing footbridge in the form of a locomotive, which in Lihovarská Street will connect the gallery complex with the opposite high-rise building.