Date: 5.8.2021 - 18:00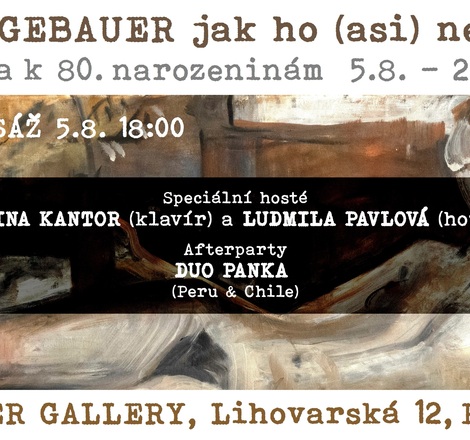 Kurt Gebauer as you (probably) don't know him
5.8. - 2.11.21

VERNISSAGE
5.8.2021 - 18:00

Special guests:
Pianist Marina Kantor and violinist Ludmila Pavlová

Afterparty:
Live music - Duo Panka (Peru - Chile)

From August to November, our gallery is hosting a very special exhibition by academic sculptor Kurt Gebauer entitled
Kurt Gebauer As You (Probably) Don't Know Him.
Although Professor Gebauer is best known as a sculptor, this exhibition, which was created on the occasion of his 80th birthday, will feature his as yet unpublished paintings from private collection created in the 50s - 70s and at the same time paintings on canvas from the last two years.
Among them we can find his own self-portrait as a young student, an inexhaustible range of people who went through his life, and above all various representations of his eldest son Žanda and his wife Libuše… before he started sewing and stuffing his Libuše, he liked to paint her, for example alá Modigliani.

He is still active in painting continuously. He is mainly inspired by floating or bathing figures, most often at the Džbán swimming pool, from where the latest works are made. For him, water is a source of joy and positive attunement, which must be captured on the canvas.
Another interesting fact is that Gebauer does not have his own studio and paints on his balcony, from which he has a direct view of Václav Havel's villa. He perceives the very act of painting as a special collaboration with nature, in which it is important to stop at the right time. When it gets dark, it starts to rain or the art process is disrupted by another, unpredictable fact. So it is not only he who paints, but a whole symbiosis of circumstances and nature over which we have no influence. If we strive for it, we usually just ruin it and "mess it up".

The exhibition will also include several unique works for sale.

Kurt Gebauer talks about his own creative process, the paintings on display and the fact that he is actually more of a painter than a sculptor, but few believe him in a documentary whose premiere will take place on the very day of his 80th birthday.
18.8. at 18:00.

For the entire duration of the exhibition, a rich accompanying program will be prepared, the launch of the catalog for the exhibition, artist talks, etc. We will gradually publish more info on our website and social networks.
-
Academic sculptor Kurt Gebauer (born on August 18, 1941, Hradec na Moravicí) has been working as a freelance sculptor since 1969. In 1990 he was appointed associate professor at the Academy of Arts, Architecture and Design in Prague, in 1992 he was appointed professor of the Studio of Universal Sculpture. Today he is a professor emeritus.
Gebauer explains his life mission with the ambiguous exaggeration of the "municipal sculptor". He has been cultivating and managing public space for six decades, most of the time at the expense of his own position. His hard-to-class concept of live figuration confused not only the political censors of the pre-November regime, but also the art scene itself. Careful studies of the experienced reality of the human body, sometimes celebrations of joyful life and nature, other times a brutal indictment of social absurdity, grotesque, ironic and poetically sad, ranks him among the great figures of the Czech 20th century. Characters who do not change history by force, but by narration, subtle humor and deep humanity.
Among his most famous students is the sculptor David Černý, who is undoubtedly one of the most prominent figures on the contemporary Czech art scene. Černý himself calls Gebauer his "father" and refers to him in many ways.