Date: 17.3. - 16.4.2022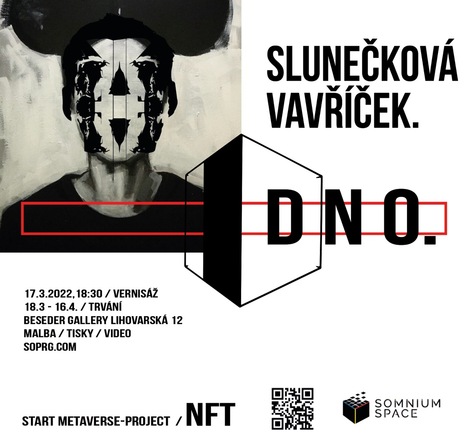 Art Exhibition "B O T T O M" of a Czech artists Kateřina Slunečková and Tomáš Vavříček - 17.3. - 16.4.2022
-
Vernissage - 17.3.2022 at 18:30
With DJ STEJSKY performance
-
Together, the artists have created series of paintings that reflect the current situation in the world and record the intimate feelings that flow from the current situation. There is a clear effort to isolate people through fear, manipulation and deprive them of their own opinion. It is also a symptom of an effort to avoid responsibility for one's own decisions. But it can also be seen as an opportunity. Just as water has the ability to wash, purify, so bouncing off from the bottom is a promise of a new beginning. You can only collect pearls at the bottom.
-
However, the series of paintings created by Kateřina Slunečková was created over the last three years. It reflects the feelings of isolating nuclear families in modern times.
The exhibition was originally supposed to be called 2020, but paradoxically it was canceled due to covid, which brought another wave of isolation. A situation that can be perceived very negatively, but also as an opportunity to turn inward. Kateřina's paintings are both self-portraits and portraits of her daughter, but they also capture a common reality that sometimes falls apart and freely transitions into a dream. Kateřina works with the idea of ​​parallel realities and the concept of time. At the same time, she works with symbolism, perceives painting as a ritual and artworks as a gate and a mirror.
In her paintings, Slunečková depicts a sensitive but also depersonalized view of the present. Acrylics, oils and watercolors feature faces and figures made with maximum emphasis on intensity and internal content.
-
Tomáš Vavříček's paintings symbolize his geometric visual abstraction, in which he depicts only the raw feelings of the last few months, as he perceives them. Without packaging and information chaos.
He perceives the world as a visual simulation of the virtual one. This has not always been the case, but today is a time when we are trying to visualize the world of the virtual subconscious. Vavříček illustrates the feelings of recent months as the HEAD 22 series, which is inspired by the eponymous war film, which in itself is offered in the context of the current situation in Ukraine. What happens in a person's head as a being in 2022. It's an explosion, it's blood-red like an unstoppable river. Vavříček was inspired by Professor Petr Rezek, with whom he studied at the Academy of Fine Arts.
The exhibition by Kateřina Slunečková and Tomáš Vavříček shows two perspectives on current events. What happens in our heads, what we feel and what we see.
-

Kateřina Slunečková (1983) is a painter and visual artist dealing mainly with figural painting, video projection and animation. She comes from Prague, where she also studied at the Secondary School of Applied Arts and in 2006 she graduated from the JMC Academy in Australia with a degree in 3D and 2D animation.
She has also been involved in video art for a long time: she collaborated with the Theater in Dlouhá (screening for the production "I Didn't Die…", 2013), or with the Hybernia Theater (screening for the theatrical fairy tale The Snow Queen, 2014). She is the author of screenings for David Koller's tour Czechoslovakia (2015) and visual director of the Lucie group tour from 2016 and 2017. She exhibited at the Týn Literary Café (Sweetheart, 2014), together with other artists she participated in the exhibition Pool (2016), realized in Faculty of Law.

Multimedia artist Tomáš Vavříček is a graduate of the Prague Academy of Fine Arts. He operates in Prague, Brno and its native Boskovice. After studying with leading Czech artists such as Jiří David, Milan Knížák, Veronika Bromová and Federico Diáz, he expanded his work to theatrical positions and socially oriented projects in public space. Among the most famous are the theatrical productions "Absolute Factory", an exhibition in New York, India, Berlin, etc ..
Vavříček has built a stable position in the field of Czech fine art, mainly due to its geometrized form. However, the author is able to go beyond this framework, thanks to his intense need for an artistic experiment, which is at the beginning of all his projects. Tomáš very often transforms the exact grasp of the issues of the researched topics into a construction discipline, a scientific experiment or completely new forms of artistic experiments.