Date: 07.06. - 06.07.2021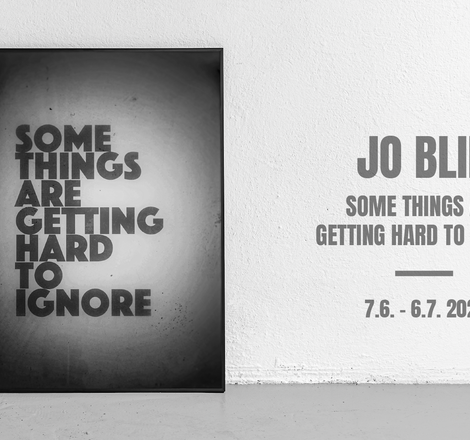 Art exhibiton Jo Blin: "Some things are getting hard to ignore". 

From 7th June to 6th July 2021 our gallery will host an exhibition "Some Things Getting Hard to Ignore" by multimedia artist Jo Blin from France.

Vernissage of the exhibiton will take place on Monday 7th June 2021 at 6:30pm.
Artist talk - on Tuesday 22nd June 2021 at 6:30pm.
Dernissage - on Tuesday 6th July 2021 at 7:00pm.

Capacity will be limited  according to the current government restrictions.
_
Jo wrote about her art exhibiton the following statement:

Name of the art exhibition it self may mean many different things to different people, at different times. I know what it meant to me when I first wrote it down and started using it in my work, but that's irrelevant.
I tend to use oversimplification and sarcasm to explore traces of alienation, confusion and frustration in contemporary human behaviour. In a world overwhelmed with information and contradiction, I try to encapsulate complex notions in short statements and cryptic slogans - and leave them open to interpretation. Through this process some meaning is lost, some is created and the messages resonate in various ways… I create simple images that carry different, sometimes contradictory meanings, ideally making the viewer feel a tad depressed while putting a smile on their face.

In summary, my words are a summary of a summary of a summary.
I use diverse methods, voices and personas. As a nihilistic life coach, a passive activist, an authoritarian follower-less prophet, a silent protestor, or just an artist unsure if art is worth making, I offer revolutionary self-help methods and delusional shortcuts to well being, lazy dreams of a a last nation that would eliminate the existence of borders the easy way - bypassing all the heavy steps that usually come with land claim, a frustrated quest for undeniable truth in a post-truth era, vain protests - lost in advance, and new definitive answers to everything. My overly confident aphorisms solve nothing.
-
Jo is according to her own words an angry immigrant and a multimedia artist currently based in Prague. Her work takes various forms to explore and obsess about current social & political issues, contemporary human behaviors and the absurdity inherent to her own practice. Often lost in light pre-apocalyptic thoughts, her experiments, images and words go from bold statements to vain protests, unheard prayers, and powerlessness-infused self-portraits. But don't worry, she's okay.