Date: 30.04. - 12.05.2019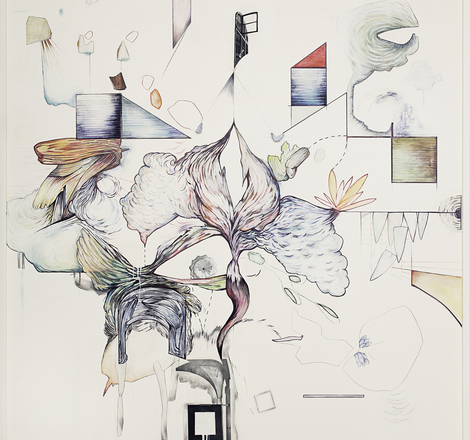 We are pleased to announce the new art exhibition by Canadian artist living and working in Prague, Jessica Serran.
Jessica Serran will present large-format paintings of oil on wood (160X160cm.).
The works are like a stroll in the streets of the artist's mind, made up of abstract shapes, figurative photo collages, architectural perspectives in addition to short written statements in English.
Curator Hagai Segev, writes in the text about the artist: "Serran creates a dreamlike world, lyrical, contemplative, serene, but one that raises the psychological questions of current personal life in a un-tranquil world. By posing the various questions on the wooden panels Serran works through a course of self-discovery which reaches out and touches, since it is the process the viewer or the stroller encounters himself, too."
About Jessica Serran
Born in Ontario, Canada, she holds an MA in Transformative Art from John F Kennedy University in Berkeley, CA and a BFA in Illustration from the College for Creative Studies in Detroit, MI. Recently named a Leader of the New Cool in Prague, she has exhibited and published her work in the Czech Republic, Slovakia and across North America; been featured in Art 21, The Prague Post, The San Francisco Chronicle, Detroit MetroTimes, Holistic Fashionista Magazine and was a 2014 Creative Mornings guest speaker on the topic of Color.