Date: 27.1.22 - 19:00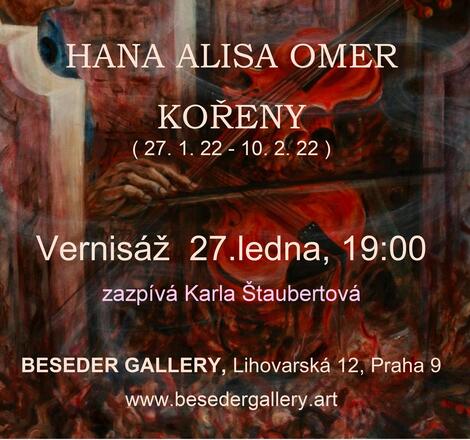 Hana Alisa Omer
ROOTS
27.1. - 10.2.2022

VERNISSAGE - 27.1.2022 od 19:00
with performance of Karla Štaubertová

The opening date of January 27 is doubly important for the artist. It is the date of the liberation of Auschwitz in 1945 that her parents survived, among other concentration camps. At the same time, it is "by chance" the date of her birth in 1947 - so she will celebrate her 75th birthday at the opening.

Much of Hana Alisa Omer's artistic work concerns dealing with the traces of the Holocaust that accompanied her throughout her life. On the outside in the family and on the inside also in the psyche. In 2005, she was asked by her brother Eugen Roden, owner of the Beseder Gallery, to paint paintings on the theme of "Roots". Thanks to his initiative, this cycle of paintings was created. She then illustrated a book of their mother's memories, in which she describes her childhood in a village in southern Slovakia, the rise of Nazism, and then the horrors she and her sisters experienced in various concentration camps. Omer then made other illustrations with the theme of the Holocaust during her life in Israel. In 2010, she had a large exhibition at the Terezín Museum, where she exhibited most of the paintings, some of which can be seen at this exhibition.

All exhibited paintings are for sale. If you are interested, please contact our gallery by e-mail: info@besedergallery.art
-
Hana Alisa Omer was born in a small town in Slovakia to Holocaust survivors. Here she grew up in the communist era and at the same time dealt with deep questions of faith and identity. From 1962 to 1966 she studied at the School of Applied Arts in Bratislava.
In 1967, she traveled to visit her family in Israel and never returned to the then communist Czechoslovakia. After specializing in graphic design and illustration at the Becalel Academy in Jerusalem, she worked for many years in Israel as an illustrator and graphic designer. At the same time, she devoted herself to the development of her own artistic work. In 1983, she became a member of the art village of Ein Hod on Mount Carmel, where she created studies of the energy structure of the human body, which she drew on yoga, she taught in kibbutzim and educational centers.
Between 1995 and 2005, she painted the cycle of paintings "Heavenly Jerusalem", inspired by the visions of the thinker and Kabbalist Dr. J. Chajutman, living in Jerusalem. With this work began a new period of her creativity - a conscious connection with the Judaic cultural heritage. In 2005, Omer was encouraged by her brother to focus on themes from their family history. So she began working on a topic that had been waiting for a long time - a tribute to her own family and cultural roots, which include the horrors of the Holocaust. At the same time, she illustrated a small but powerful book of her mother's memories and created other Holocaust-themed illustrations.
She has been living in Prague since 2010, which is still a creative challenge and inspiration for Omer's constant creative work.