Date: 07.06.-17.06.2018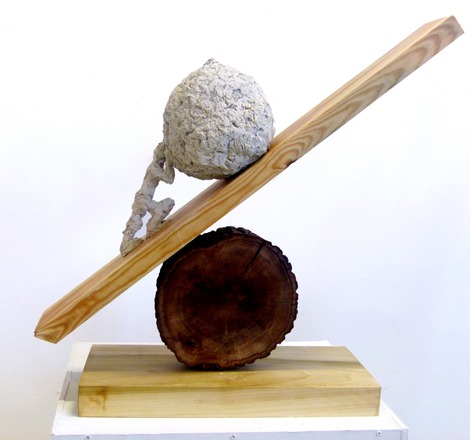 As part of the opening of the new Galerie Hala C cultural space in the Libeň district of Prague, an exhibition of the Israeli sculptor Yossi Salzman will take place, along with a selection of original sketches by the Czech architect Martin Rajniš. Also included in the show will be selected works from the SAGA Gallery.
"Mám velkou radost, že se nám podařilo zahájit provoz kulturního prostoru Galerie Hala C právě výstavou spojující tvorbu profesora Yossiho Salzmana a architekta Martina Rajniše ve spolupráci se SAGA Gallery", uvedl iniciátor projektu a majitel společnosti SEN Development, Eugen Roden. Projekt Galerie Hala C se chystá šířit místní i mezinárodní projekty v oblasti výtvarného umění, hudby a dalších kulturních odvětví. Svými aktivitami tak plánuje obohatit pražskou kulturní scénu, zejména pak okolní čtvrti Libeň a Vysočany.
 "PRVNÍ VÝSTAVA" přináší mozaiku děl několika vybraných autorů. Izraelský sochař Yossi Salzman, který v České republice vystavuje poprvé, čerpá inspiraci ze současného Izraele i z antické mytologie. Součástí  slavnostní vernisáže bude i odhalení jeho asambláže Praha, kterou Yossi Salzman vytvořil speciálně pro prostor vstupní haly.  "Do asambláže  Praha  jsem  zakomponoval mnoho ikon místní kultury a klíčových momentů historie, včetně odkazů na židovskou přítomnost v české kultuře, která je zde odnedávná přítomná," uvedl Yossi Salzman.
Druhá část výstavy je věnovaná skicám a inspiracím architekta Martina Rajniše. Proces skicovaní a skica samotná by měla podle Martina Rajniše tvořit nenahraditelnou a významnou součást tvorby každého architekta. Dokáže vysílat mnoho informací, které se jinak nedají vystihnout a zanést do plánu. "Žijeme v době, kdy si spousta lidí myslí, že vše se dá vytvořit na počítači. Řekl bych,  že pravý opak je pravdou. Pro práci architekta je nesmírně důležité mít možnost ze své  vlastní hlavy a svou vlastní rukou kreslit návrhy od samého začátku. Kresba představuje mnohem kratší spojení mezi hlavou, rukou a papírem. A je to na ní vidět", uvedl Martin Rajniš.
Přehlídku doplní vybraná díla ze SAGA Gallery, například portrét Andyho Warhola a mnohé  další.