Date: 18. 10. 2022 - 19:00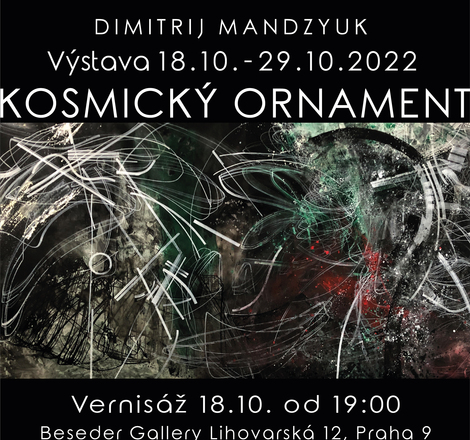 An unique art exhibition of light paintings by Dimitrij Mandzyuk called COSMIC ORNAMENT, which will provide viewers with a deep visual and interactive experience, will be on view in our gallery from 18/10 to 29/10/2022
The Vernissage will take place on October 18 from 7:00 p.m
-
Dimitrij Mandzyuk is a young artist who was born in western Ukraine in the town of Černovice. Soon after his birth, however, he and his family moved to Prague. Both of Dimitri's parents are academic painters who graduated from the Muchin School in St. Petersburg and inspired him to practice art from an early age. Dimitrij graduated from the Secondary School of Applied Arts, where he studied spatial design, which moved him to work with installations or technologies that he combines with art. He is currently studying at the Academy of Arts, Architecture and Design (UMPRUM) in the studio of Paint under the direction of Jiří Černický and Michal Novotný.

Nowadays Dimitrij often focuses on modern large-format paintings, which often emerge from the surface into a three-dimensional space, where he experiments with light, interactive programs, all of which deal with geometric ornamental painting, complemented by gestural handwriting characters based on calligraphy.
The source of inspiration is found in the observation of the landscape. He is fascinated by its plurality. He creates structural images with a strong graphic design, overflowing with ornamental details and synchronizing elements, in short, an image living its inner life.

At the exhibition in the Beseder Gallery, he will present engraved luminous transparent panels, a lighting triptych and large-format paintings.
Author's quote: "We live in a reality that is quite fragmented, it is very difficult to grasp it all, but I managed to do it a few times, it was a revelation. I experienced it when I observed a landscape or a work of art. It was a moment when you felt like you understood the true purpose. I don't know what it was specifically, it was more of a deep feeling of insight. From that moment, I try to find visual image that could share that experience."