Date: 29.6.2023 - 18:00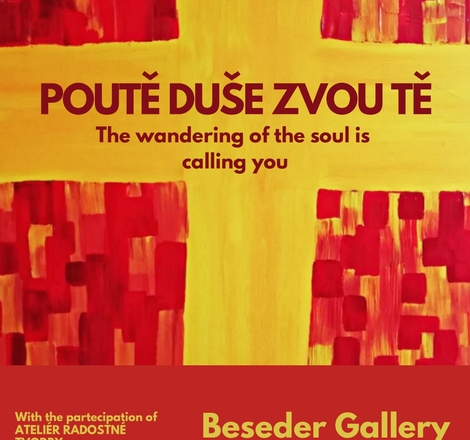 ATELIÉR RADOSTNÉ TVROBY: THE WANDERING OF THE SOUL IS CALLING YOU
A pilgrimage is a journey during which a person goes in search of new or expanded meaning about their self, their world, sometimes a higher good. And ultimately, is a calling to the very soul of the voyager, a song sing by feet, hands and heart.
Every art piece that is exhibited here is a journey.
From the literal journey filmed in Karel Čtveráček´s movie, to the interior one displayed in Lukrécie's paintings. From the vibrant landscapes given to us by Dagmar Filípková, to the urban civilizations represented by Vojtěch Proske. Even Jaroslav Brabec's photographs are telling us the journey of Ateliér Radostné Tvorby.
If the pilgrimage on foot is demanding in terms of strength and time, the ones that happen in our minds are demanding in terms of time and honesty. Discovering our souls is not easy, and allowing them to express themselves is something often forgotten (or avoided).
We invite you then to join us in this journey. The wandering of the souls around you is a call: allow yourself to answer it.
Curator: Gaia Visentin