Date: 3.5.2022 - 19:00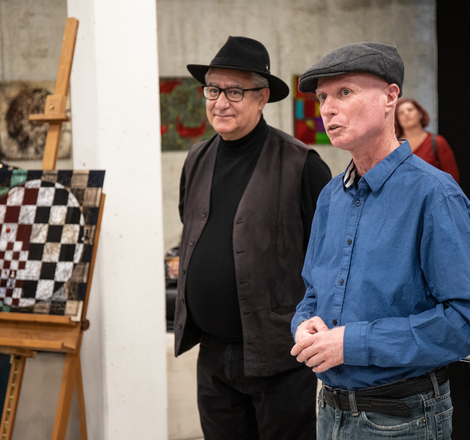 We cordially invite you to artist talk of the Assem AlSabban's exhibition "Enchanting Beauty", where you can learn what is behind his extraordinary photographs. The tour will be held in English by the artist and curator of the exhibition, Hagai Segev.
About the art exhibition:
-
The exceptional art of photography by Assem AlSabban brings to the world of photography and art a unique combination of traditions and sources of inspiration. The photography is deeply planted in traditional photography but introduces innovative and engaging characteristics.
AlSabban's career is rooted in a combination of diplomatic work around the world and that of an artist-photographer. It is an unconventional combination that apparently leads to the creation of images that are also unconventional. In addition, residing in many countries due to his diplomatic pursuits translates into diverse sources of inspiration: cultural, historical, and visual.

The exhibition at the Beseder Gallery in Prague combines this creativity with a variety of levels of artistic photography. The selection presented covers several series of photographs he has created in recent years; we have chosen several directions that show the poetic psyche of Assem's work. It begins with a photograph of a cityscape or of female models and quickly exhibits the unique gaze into his poetic soul as an artist.
The original photography is adorned with rich elements and graphic ornamentation that expresses the western culture in which Assem works. These basic elements are complemented by surprising oriental and Muslim motifs that relate to his years in Saudi Arabia.
Assem absorbs the spirit of each local where his work is created, so that the streets of Old Prague, its historic buildings, bridges, sculptures, and of course trams are all integrated into the photographs but undergo complex adaptations that reshape them, lending a diverse and endless cultural richness.

AlSabban writes about his photos: "These are reflections from the prison we build ourselves, inside our mind. Some, not all claim we are free, but the reality is different. We disagree with our positive thoughts more than we fight our negativity. I try to escape my prison through my artwork, and I do…. sometimes. In the lines, you'll see and feel the complications of our thoughts. We strive to reach a goal, and we forget the simplicity of real happiness. We understand it more if we are imprisoned as we were during some time ago. Good luck with finding your freedom. Hidden in the books of history's many secrets."
Curator: Hagai Segev 
-
Assem AlSabban started taking pictures at the age of just 14 and worked for many years for leading advertising agencies in Saudi Arabia and other countries. His profession as a Saudi diplomat then allowed him to travel to different countries and brought a lot of inspiration for his artistic work. He was able to capture the beauty of many countries in the Middle East, Senegal, as well as Paris and Helsinki and other European cities with his lens. One of the places he fell in love with and became a frequent subject of his works is Prague. In his photographs, he shows her unique atmosphere with a wide range of different expressions. It reveals the poetics of seemingly mundane things and conveys exceptional moments of visual imagination. It works with the principles of collage, montage or layering, and then specifically edits and prints the images on canvas, so that they act as breathtaking paintings. His works have been exhibited in Egypt, Germany, Saudi Arabia, Paris, Helsinki, and Prague.