Date: 10.01. - 03.06.2021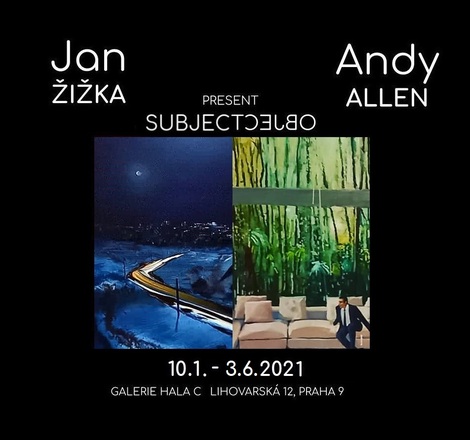 From
10th January 2021
 is taking place in our gallery exhibition "
Subject Object
" by artists
Andy Allen
and
Jan Žižka
. 
(This is a modified version of exhibition "Object Subject", which took place from 7.10. to 11.12.2020.)
The dernisage
will take place on
June 3, 2021
from
18:00
.
▪︎ The capacity in the gallery will be limited depending on the current government restrictions, for now applies the following:
-
maximum capacity of 10 people with a respirator and with a spacing of 2m
.
▪︎ To the gallery is connected
Beseder restaurant
with an outdoor garden and 
the courtyard in front of the gallery will also be accessible, which will allow the fluctiation of visitors.

Actual information will be updated on our
facebook
.
When circumstances allow, we will make an event connected to the exhibition so that you can also see it live.
-
Andy Allen was born in 1989 in Rhuddlan, UK. He is living and working for the last five years in Prague. His alchemical approach to image making incorporates gestalt laws, experimental processes and digital manipulation. In an attempt to respond to the language and tradition of oil painting. 
Since graduating Allen has exhibited extensively throughout the UK and internationally including shows in London, New York and Suzhou China. His paintings are held in prestigious public and private collections throughout the world, including: The Duke and Duchess of Devonshire's Collection at Chatsworth House. 

Jan Žižka was born in 1985 in Teplice and as well as Allen lives and creates in Prague. 
Lives and works in Prague. His intuitive process is based in abstraction, allowing the sculptural qualities of oil paint to inform and create figurative forms and otherworldly landscape. He draws inspiration from a wide range of sources from science fiction, to classical sculpture. Žižka lived and worked in London for several years where he was exposed to new processes and influences. His works are held in public and private collections throughout the world.
V závislosti na opatřeních vlády uspořádáme operativně novou vernisáž na živo, o které Vás budeme informovat.
Prozatím se budeme těšit na virtuální setkání s Vámi! :)
Andy Allen se narodil v roce 1989 v anglickém Rhuddlanu, posledních pět let však žije a pracuje v Praze. Jeho alchymistický přístup k tvorbě obrazu zahrnuje zákony gestaltu, experimentální procesy a digitální manipulaci ve snaze reagovat na tradici a jazyk olejomalby.
Po ukončení studia vystavoval Allen po celé Velké Británii i mezinárodně, např. v Londýně, New Yorku nebo v čínském Suzhou. Jeho obrazy jsou zastoupeny v prestižních veřejných i soukromých sbírkách po celém světě, včetně sbírky Vévody a Vévodkyně z Devonshiru na zámku Chatsworth House v Anglii.
Jan Žižka se narodil v roce 1985 v Teplicích a stejně jako Allen nyní žije a tvoří v Praze. Jeho intuitivní proces je založen na abstrakci, která umožňuje sochařským kvalitám olejové barvy informovat a vytvářet obrazové formy a nadpozemskou krajinu. Inspiruje se širokou škálou zdrojů od sci-fi až po klasické sochařství.
Žižka žil a pracoval několik let v Londýně, kde byl vystaven novým procesům a vlivům. Jeho díla jsou ve veřejných a soukromých sbírkách po celém světě.