Date: 10.12. - 10.01.2020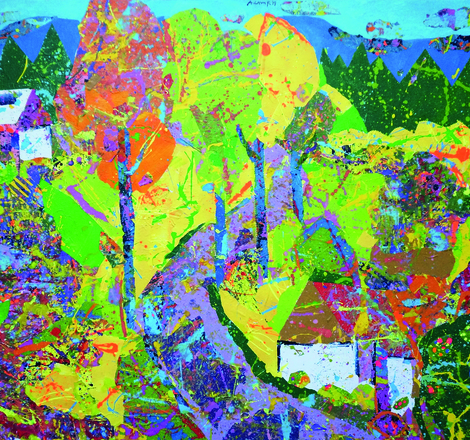 The duo exhibition by Aleš Lamr and Jan Lamr, father and son, offers numerous possibilities of depicting the world in the simplest means - just by colors. These plain means, as simple as they are, allow the creation of countless new worlds, new images, environments, and sensations. Their affect the onlooker is deep and strong and sustains for some time. They also reflect the lively joy of the artists who savor the possibilities and share them with their public.
Aleš Lamr is one of the best-known painters working in the Czech Republic, the manner in which he applies color is the hallmark of his work. As one of the renowned colorists, he frequently exhibits throughout the Czech Republic and around the world. His son, Jan Lamr, is an emerging artist working both in graphic design and painting.  This background is evident in his organized and methodical paintings that offer a careful scheme of shapes and colors on the canvas - creating organized chaos.
The freedom to depict the world as the authors feel and sense it erupts on the gallery walls. It allows one to observe the forms of creative freedom, and the freedom to enjoy life and art. The excitement of the very discovery of shapes and contents also bursts onto the canvas. The bursting of colors and images that become a special artistic expression, at times disassembled, at times methodical and organized, allows one to examine the forms and their effect on the mind. Some flow at ease, some diverge, some are pleasant, while others are bewildering.
Aleš Lamr's paintings are placed in the exhibition side by side and create a comprehensive and wide-ranging panorama of his subjects and themes. The entire wall is consolidated into one expansive landscape covering several meters. The wide layout makes it possible to see the unity created within the details that formulate the complexity of the author's work, from actual landscapes, through portraits of women in a figurative mosaic ending in completely abstract Rorschach stains.
This is a fantasy of colors offering a new joy of depicting the familiar image and shaping it by color rather than by contour. The shape almost loses its meaning while emphasizing the color element as a distinct and unique expression, which is the essence of the painting. The impressionistic appearance, the popistic lightness of pop art, the fluidity of the expressionist colors, all transform the familiar world into images that are freed from fixation and conventions.
The joy of life springs out of the Aleš Lamr's paintings; Order and methodology are spread across the Jan Lamr's canvases. The distinction between graphics and free art is highly apparent. However, the colors, once brought together, offer a variety of interpretations of artistic experience - by virtue of spontaneity and not least of order.


Curator: Hagai Segev