Date: 8.8.2023 v 17:00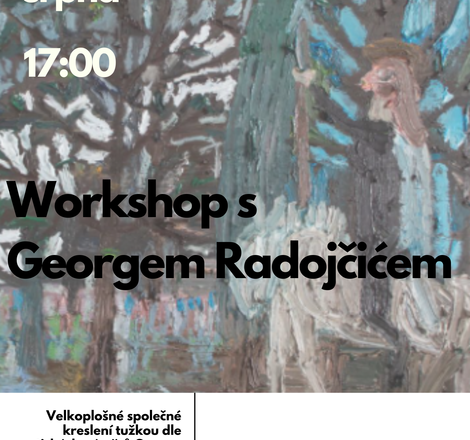 Large-scale collaborative pencil drawing based on ancient themes by George Radojčić, the author
from the Studio of Joyful Creation.
During the workshop, the author's drawings will be exhibited.

ABOUT THE AUTHOR

Although born in Sarajevo, he has been living in Prague his whole life. Epilepsy manifested itself in
him at the age of four, which had a significant impact on the course of his life. He completed
elementary school at the age of high school graduates and was subsequently admitted to the
graphic studio of Jiří Lindovský at the Academy of Fine Arts in Prague as a remarkable talent without
entrance exams. Although he did not finish his studies, he continued painting with an elemental
creativity. His collaboration with the Studio of Joyful Creation at Letná represents a peculiar story –
his first visit around 2014 was somewhat discouraging, but after five years, he returned and started
to seek out this environment.
He resolved to create an extensive cycle of oil paintings, estimated to be hundreds of canvases, in
which he would map the entire course of history from ancient times to the present day. He is
particularly drawn to battles and war scenes from old epics, clashes of enormous armies, but
gradually, he also captures stories from the Bible, Dante's Divine Comedy, and other literary sources.
An animated film called "Dominikovy příběhy" (Dominik's Stories) was created from his drawings by
Magdaléna Hejzlarová. He has exhibited several times at the Artinbox gallery in Prague and has had
solo presentations at the Art Brut Prague gallery and in the premises of the Czech Senate, among
others.