Date: 26. 11. 2022, 11:00 - 14:00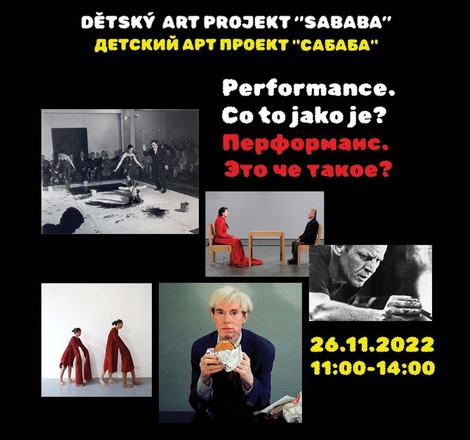 Workshop of kids art project Sababa - "Performance. What's that??"
by Taťjana Křelinová
Saturday 26th November 2022, 11:00 - 14:00

A famous English artist William Turner, who loved finishing his paintings right infront of a public was already making a kind of "performance" at the turn of the 18th and 19th centuries. Ahead of his time, he rubbed the paint with a spit and vehemently corrected paintings with his finger out in public. The crowd was amazed, frightened even at the strange antics of the artist wondering to themselves if the canvas will keep from breaking!
Would you like to see such a thing live?
We will try to reproduce some kind of "action" at the next master class by Taťjana Křelinová, dedicated to performance art.

This three-hour project for kids and their parents, will take place as a part of the accompanying program "Sababa".
The program will include both an educational video part and a series of performances for the guests.
For example, small actors of the children's theater "Divadlo KS" will present their own performances. The founder of the theater Ksenia Kreindel will enter the body of the grandmother of performance art - Marina Abramovich.
In our gallery complex you will be able to find a local brewery with a restaurant, where participants can have lunch, a snack or drinks after the event.
Come to spend a great and interesting Saturday with us! There may be other surprises waiting for you…

Participation: 200 CZK

 The workshop will be held under the leadership of Taťjana Křelinová, journalist, artist and art critic.
   ◦ She worked for a long time at Czech Radio as an editor.
   ◦ She organized the Tatiart International Art School in Brussels 8 years ago.
   ◦ In Prague, she organizes art training, museum tours and lectures on art history.
   ◦ She created an original practical contemporary art video course for children and adults "Is it art?"
This interesting and beautiful art project Tatyana leads in two languages ​​- in Czech and Russian. This time we asked that it be done in Russian, to give it to the children of the former SNG countries, to the children of emigrants who have not yet forgotten the language that united so many different people for so long.