Date: 23.3.2023 - 18:00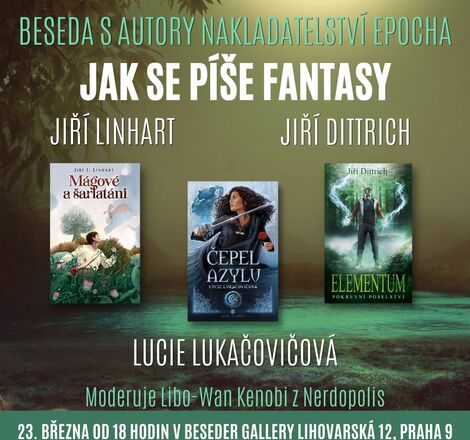 "How to write fantasy"
A talk with the authors of the Epocha publishing house: Jiří Linhart, Lucie Lukačovičová and Jiří Dittrich.
▪︎ On Thursday, March 23 from 6:00 p.m.

How do contemporary Czech authors write fantasy and how much is this genre affected by myths and legends in today's trends? How hard is it to get ahead, or even to get started? These and much more are the questions that will be answered in a discussion with three fantasy authors from Epocha Publishing House.

The anthropologist Lucie Lukačovičová, who has written many important short stories and novels, will present her point of view on the matter and the work, and her most successful books, a series from the world of the mystical Asylum.
Jiří Linhart, whose successful first book Mágové a šarlatáni bears the hallmarks of magical realism, will share what it's like to send your manuscript to a publishing house and succeed, and Jiří Dittrich will take us through all the natural elements with his Elementum series to show us how symbols from our world influence the fantasy one.

The talk will be hosted by Libo-Wan Kenobi z Nerdopolis.