Date: 30.10.2022 - 18:30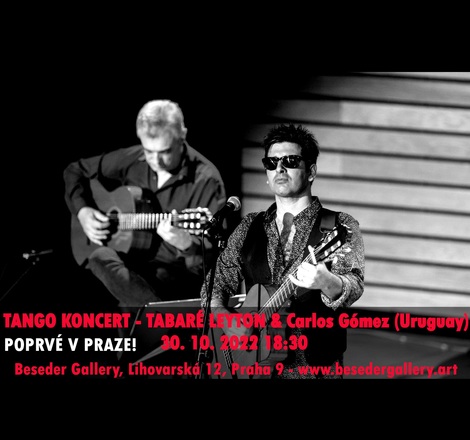 We cordially invite you to the live music performace by Tabaré Leyton.

Sunday 30th October 2022 - at 18:30
Admission voluntary, recommended 250,- CZK 

The great Uruguayan tango singer, Tabaré Leyton, returns to the European stages presenting "Hoy me ven volver" ("Today they see me come back."). A repertoire of songs from the past and new compositions that will be part of his next album "Criollo".
Amalia De la Vega, Carlos Gardel, Agustín Magaldi, among others, will meet for us to find ourselves and reflect on their songs.
He is accompanied by the exquisite guitarist: Carlos Gómez.
This project is supported by Ibermúsicas, MRREE of Uruguay.

About the musician:

The Uruguayan singer Tabaré Leyton has burst onto the "Rio de la Plata" music scene, the land of tango, with a unique voice that combined history, present and future of that musical genre that has delighted both tango lovers and music purists. The special thing about himself is not only his extraordinary voice, but also his versatility suited for tango, zamba, candombe and other musical
styles.
In his ten year career, Tabaré has won the most important awards of his country: an Iris Award for Revelation in 2012, two Graffiti Awards (Uruguayan equivalent to the Grammy's) as Best Tango album in 2012 and 2018, the Morosoli Award (important award for the Arts) and a series of presentations in important halls of the region and the world, including the prestigious Teatro Solís
and the Sala Zitarrosa in Montevideo, a performance at the Luna Park in Buenos Aires as a part of the Tango Festival, and presentations in Spain (Festival of Granada), Finland (Festival of Seinäjoki), Denmark, France and Qatar.
Since 2010, Tabaré has made close musical ties with Max Masri, successful producer and leader of the renowned band Tanghetto. With Max Masri 's production, he has recorded three albums: "La Factoría del Tango", "Charrúa", "Vivo por el tango", and they are recording "Criollo", his first double album.
Sponsored by the legend, Horacio Ferrer, poet of Astor Piazzolla and author of hundreds of legendary texts, and also by Max Masri and Alberto Magnone, Tabare's career has taken off. Both in traditional milongas as well as in outdoor festivals or in prestigious theaters of the region and the world, Tabaré is always greeted with prolonged applause by audiences who find him as a
modern Carlos Gardel. His strong Uruguayan roots inspire, excite and make those who enjoy his songs travel with their senses.