Date: 11. 1. 2023 - 19:00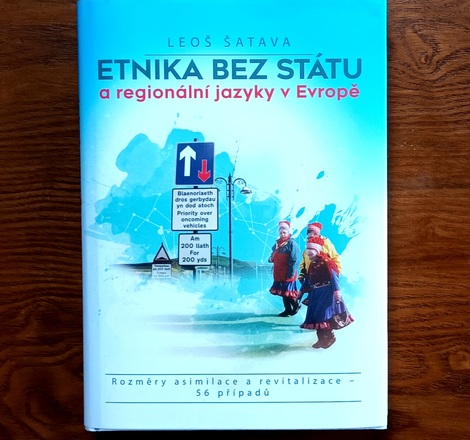 Launch of ethnologist LEOŠ ŠATAVA's book "Ethnicity without a state and regional languages ​​in Europe".

Wednesday January 11, 2023 at 7:00 p.m

Professor Šatava invited a special guest to the event, associate professor Petr Kokaisl, with whom he will discuss the content of the book and the issue of ethnic minorities in general.
The evening will also include thematic demonstrations of ethnic music of European minorities.
-
The publication is a set of basic information about the current situation of more than five dozen European ethnic groups without their own state unit and regional languages. It was in Europe that the model of the unity of the ethno-linguistic community and the "national" state was by far the most prominent. The great majority of European ethnicities with more than a million members have their own state today; the same applies to some less numerous ethnic communities.
Nations without their own state are often handicapped; the same applies to speakers of regional languages. However, it is clear from political practice that only a small part of the thousands of ethnic groups in the world can create their own national state. The mentioned populations also differ significantly (both quantitatively and qualitatively). As for the users of regional languages, their ethnic delineation is often only limited; it is usually replaced by an accent on cultural phenomena.
Fifty-six presented case studies take a closer look at minority ethnic populations and regional languages ​​from various corners of Europe. The book thus makes it possible to look at the European continent from a different perspective than usual. Three examples from other continents are also presented as a certain counterpart and comparative material. 

prof. PhDr. Leoš Šatava, CSc. (*1954, Prague) is a university professor, ethnologist and sociolinguist, dealing with the topic of European national minorities (especially the Lusatian Serbs in Germany). Prof. Šatava works at universities in the Czech Republic and Slovakia. His best-known publication in the field is the book "National Minorities in Europe: An Encyclopedic Handbook", published in 1994. He focuses on the issue of ethno-linguistic revitalization ("Language and Identity of Ethnic Minorities", 2009). A summary of his long-term stay and research in Lusatia is the work "Lusatia Serbs at the turn of the 20th/21st century" from 2020. In the years 2003-2006 he also held the position of chairman of the Society of Friends of Lusatia.

doc. PhDr. Ing. Petr Kokaisl, Ph.D. (*1972, Prague) headed the Department of Social Sciences of the Faculty of Humanities at the University of Pardubice. He currently teaches at the Faculty of Business Economics at CZU, where he co-founded the Department of Economic and Cultural Studies, of which he is the guarantor. His research interests include cultural anthropology, ethnic minority studies, societal transformation, geography of religion, and methodology in social science research. Since 2000, he has undertaken a number of field researches in Central Asian countries, China, etc.