Date: 12. - 13.5.2022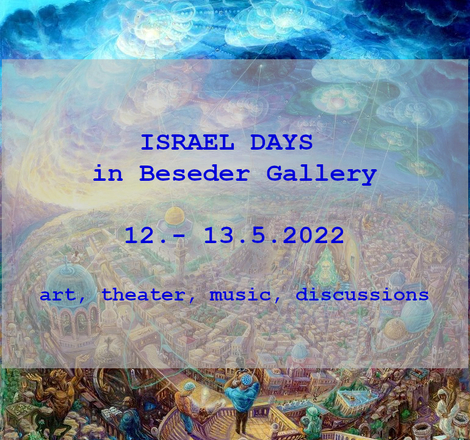 Israel Days at Beseder Gallery
2 days of events celebrating Israel's 74th Day of Independence 
the event is held under the auspices of the Israeli Embassy in Prague

PROGRAMME:

▪︎ May 12, 2022                                                                                                                                                                                                          7 pm Territories of Imperfection art exhibition vernissage - Zvi Tolkovsky and Attai Chen                                                                               
8 pm The Masters puppet theatre performance - Masha Nemirovsky and Maria Gurevich      


▪︎ May 13, 2022
7 pm - Panel Discussion: The Art of being an Israeli
Moderator: Lenka Zlámalová
Speakers: Ofer Dahan, Sylvie Wittmannova, Karel Sedláček, Ziv Semadar and Eugen Roden.                                                                                                                     - In the end of the discussion: Sivan Eldar Whispers and Chimes Piano performance by Marina Kantor 
- Live art perfomance of Vladimir Kiseljov.
- After the discussion: Kabalat Shabbat in the Beseder restaurant and microbrewery Kolčavka.

Admission: voluntary
-

Celebrating Israel's 74th Day of Independence, Beseder Gallery in cooperation with the Embassy of the State of Israel in Prague holds several special events:

An art exhibition by two renowned Israeli artists living and working in Jerusalem, Czechia, and Germany - Zvi Tolkovsky and Attai Chen - exhibiting paintings and sculptural jewelry, Territories of Imperfection. 
Following the opening event, two well known Israeli artists living and working in Jerusalem - Masha Nemirovsky and Maria Gurevich - will present for the first time in Prague an unique puppet performance of an alternative theatre, The Masters.
Gurevich is a puppeteer master, who also produces puppets for Japanese, American, German and Israeli television.
Nemirovsky is a director and pianist, laureate of the Jerusalem Prize for theatrical activity among other prestigious awards.
Language of the performance: music and a body language.
 
Keep in mind that Israel Days take place at the Beseder Gallery - a contemporary art gallery, the second day will begin with contemporary music. Sivan Eldar "Whispers and Chimes'' performed by Marina Kantor.

The continuation of the evening will be devoted to the panel discussion "The Art of Being an Israeli".
The panel will be moderated by journalist Lenka Zlamalova.
Zlámalová focuses on politics and economics. Currently works as an analyst and commentator for the internet news server Echo24 and also comments on economics for Czech Radio and Czech TV.

Some participants of the panel will be speakers born in Israel and living here in the Czech Republic; and those who never doubt that their identity is inseparable from their place of residence....
Ofer Dahan - "I am an Israeli in Prague keeping his roots alive within his family and community."
Sylvie Wittmannova - "I am the owner of the first Jewish incoming Tourist Agency office in Europe. And President Emeritus of Beit Simcha."
Karel Sedláčkek - "I am the representative of ICEJ in the Czech Republic."
Ziv Semadar - "I was born in Jerusalem, living in Prague since 1999. I am also proud father of two sons, and otherwise still a "work in progress".
Eugen Roden -  "I was born in Slovakia, in Hungarian speaking region, 50 km Southeast to Bratislava. I am initiator and builder of Beseder Gallery, restaurant Beseder and pivovar Kolčavka. I am also a professional economist." 

 A surprise awaits visitors on the second day; artist Vladimir Kiseljov will capture the uniqueness of this event in his painting, created during this very evening.

Since the discussion will take place on Friday evening, those who wish are welcome to take part in the Kabalat Shabbat - in the Beseder restaurant, where the discussion can go beyond the discussion panel, accompanied by good Mediterranean cuisine, wine and beer brewed right there - in the private mini brewer Kolčavka. 
The restaurant will be decorated with themed visionary paintings of Jerusalem by painter Hana Alisa Omer.