Date: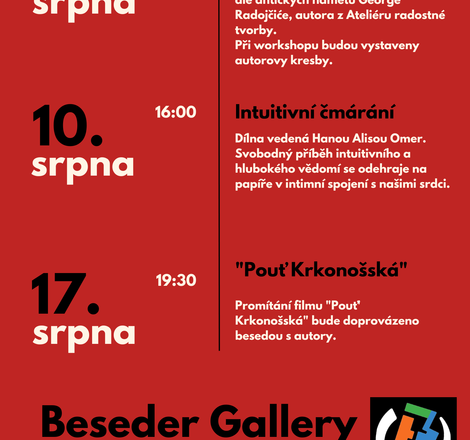 In the beautiful frame offered us by the exhibition "The wandering of the soul is calling you", hosted
at our gallery until September 1st , Beseder Gallery is proud to give you the program for our August
events.

We will start on Tuesday the 8th , with a large-scale collaborative workshop held by George Radojčić,
the author from the Studio of Joyful Creation. During the workshop, the author's drawings will be
exhibited.

On Thursday the 10th , Hana Alisa Homer will guide us to the discovery of our inner selves and our
inner narratives through a "scribbling workshop".

And on Thursday the 17th the movie ''Pouť Krkonošská'' that inspired this very exhibition, will be
screened. The authors will be present to comment and to discuss it with the audience.
The wandering of the soul is still calling you: and we are happy to wait for you here at Beseder.
Workshop with George Radojčić
On Tuesday, August 8th, the workshop led by George Radojčić, an artist from the Ateliér Radostné Tvorby, took place. Participation was high, and the result was excellent!
Although born in Sarajevo, he has been living in Prague his whole life. Epilepsy manifested itself in him at the age of four, which had a significant impact on the course of his life. He completed elementary school at the age of high school graduates and was subsequently admitted to the graphic studio of Jiří Lindovský at the Academy of Fine Arts in Prague as a remarkable talent without entrance exams. Although he did not finish his studies, he continued painting with an elemental creativity. His collaboration with the Studio of Joyful Creation at Letná represents a peculiar story – his first visit around 2014 was somewhat discouraging, but after five years, he returned and started to seek out this environment.
Workshop Hana Alisa
On Tuesday, 10th of August the workshop "Intuitivní čmárání", held by Hana Alisa Omer, took place at the Gallery. The artist Hana Alisa explained the different materials and mediums that she used for her so-called "scribblings", and then allowed the participants to express themselves freely using the materials of their choice. It was a wonderful afternoon!