Date: 27. 1. 2023 - 18:00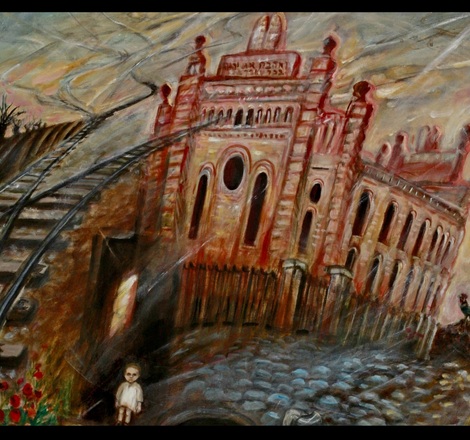 We invite you to the socio-cultural event of painter HANA ALISA OMER and writer JIŘÍ KAČUR:
MIRACLES?!

January 27, 2023 
- on International Holocaust Remembrance Day
PROGRAMME:

18.00 - Welcoming to the exhibition of photographs and illustrations
18.30 - Musical performance
19.00 - Discussion and Therapy Circle with painter Hana Alisa Omer and writer Jiří Kačur
20.00 – Cultural and social event

TOPIC:
The question of guilt and complicity and what the hell does that have to do with me?

Hana Alisa Omer – painter, yoga instructor and grandmother, originally from Slovakia, lived in Israel for 40 years and in last decade in Prague. Born exactly two years after the liberation of the Auschwitz camp on January 27, 1945, the horrors of which her mother miraculously survived.
Hana Alisa has devoted her entire life to artistic creation. In the early phase of her artwork she dealt with neuroses associated with the "syndrome of second generation" after the Holocaust. Today, at the age of 76, he says: "The fact that my mother survived that horror is a miracle. The fact that I was born is a miracle, and my children, grandchildren and great-granddaughter are a miracle."

Jiří Kačur – versatile writer and poet living in Prague, born in 1965 in Bruntál. For the benefit of the cultural climate in this country, he ran an antiquarian bookshop for many years and wrote plays, short stories, novels, essays, poems and drew and comic books.
The author's work is divided into BEFORE AND AFTER... One day, already at a later age, he looking around, understood, that the world needs love above all. And so he thought he would write about her search and finding. Just about that is his novel "Šťastný kosočtverec" (Happy rhombus") , which The "Volvox Globator" publishing house with a grant from the Ministry of Culture published lately. You can find his other works at: https://www.origopublishing.com/.

From the collection of poems "Someone will arrange it" from Jiří Kačur:

We stand here naked
We stand here naked with empty hands
Some with beautiful legs,
Others with crooked legs
Hammer of Fate
Full of fear and interest
The inexorable necessity of the rule:
"Every necessity has its own rules."
We stand here: like pillars of salt
Waiting for what?
When fate strikes?
When death its beloved scythe swings?
When it'll thunder?