Event date: 2023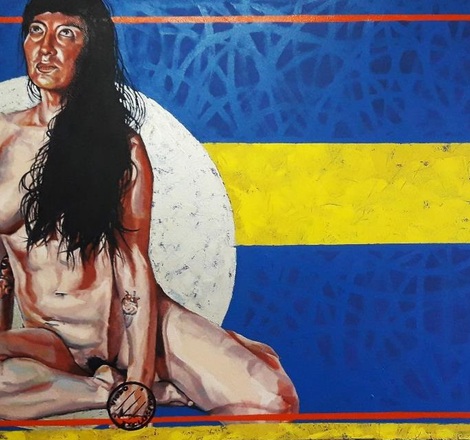 In the year of 2023 we are planing an art exhibiton "Kurku" by Peruvian artist Kendrick Dreyfus, which we will stream online in the gallery.
If circumstances allows, musician Moimir Papalescu, a friend and collector of Kendrick himself, will play for us.
-
The date of this event TBA.
-
Kurku is "body" in quechua or rather a "physical part of a human being".
Dreyfus places female bodies in the dramatic (Peruvian) present, without censorship and embellishment, naked, raw, sensual and sexual. Because the human body and sexuality is not something that should be taboo. On the contrary. It is sexuality that is the flowing life-giving energy of this planet. Open and wild sexuality is also very significant for the Amazon region from which Dreyfus comes. However, in today's (especially "Western") society, the nudity and sexuality of the human body is pathologically tabooized human nature. To close one's eyes to it is like not accepting reality and the purest essence of oneself. Dreyfus therefore depicts Peru through women, mothers, goddesses, Amazonas ... strong, charismatic, authentic and genuine. He himself is the only man in the exhibition, as a symbolic creator of his adored women on canvas, dominated by his wife Cosshet. Both are, with a halo, a kind of profane patrons of the whole exhibition celebrating Peru through kurku, the physical nature of man.
Painter, poet, sculptor and performer Kendrick Nils Dreyfus Oversluijs (1983) is originally from Pucallpa, Amazon, where he also graduated from the Academy of Fine Arts with Professor Eduard Meza Sarabio. He currently lives in Cusco and, together with his wife Coshett, founded a cultural club and gallery, the Laggart café. In addition to exhibitions, it also hosts many concerts, lectures, screenings and performances. It is a very important cultural epicenter in the Cusco region.
In his paintings, Dreyfus combines abstraction with realistic portraits. His frequent subjects are the human body and Peruvian indigenous women. His art is a bit psychedelic, inspired by the jungle, but also by circus and theater or simply by all the forms that the traveler's life brings him along the way. He also devotes himself to poetry, which for him, together with fine art, is a stream expressing his own emotional freedom. He often incorporates his poems directly into paintings. He paints mostly with acrylic, oil or watercolors on cardboard or canvas.
Since 2002, he has had over 20 solo and group exhibitions and won several art awards, such as the award of first place in the Pucallpa Regional Competition "Values ​​of Our Cultural Identity" in 2006. With a group of artists from Pucallpa, he is also part of the "Sex Nation" collective, which depicts exclusively sexual themes and with which he has held many exhibitions throughout Peru. Dreyfus has exhibited in Peru in important galleries and museums, such as the Casa de la Cultura, the Museum of Contemporary Art in Cusco, etc. In addition to Peru, he has also exhibited in European countries such as Switzerland, Spain or the Czech Republic, with which he has a very personal relationship. . Among his great inspirations is the Art Nouveau painter Alfons Mucha and his collector and fan is, for example, the Czech musician Moimir Papalescu, who is also adored by Kendrick himself.