Event date: 3.3. - 3.4.2022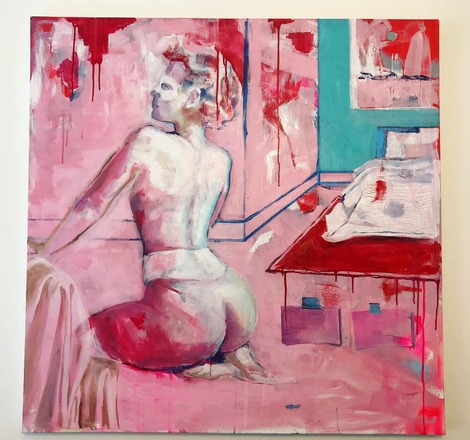 Fort the year of 2022 is planned an art exhibition "2020" by artist Kateřina Slunéčková. 
-
Date of the event TBA
-
Kateřina retrospectively looks at the year 2020, which was full of unexpected twists and turns. Each of her paintings hides a story-feeling. How to get through the darkness, find your way to yourself. It depicts a supremely sensitive, but often bloody and brutal view of the complicated nature of intimacy in postmodern reality. Women and the female body are the most common objects that the author works with. From acrylics, oils and watercolors are coming up stylized faces and figures of women, but always with maximum emphasis on the intensity and internal realistic content. Women not as artifacts, but as complicated, contradictory, and therefore fascinating beings. In her paintings, Slunečková offers a distinctive reality, woven from long evenings, morning hangovers, destructive relationships, raw sexuality and the liquid, hectically pulsating nature of the contemporary world.
Kateřina Slunečková (1983) is a painter and visual artist. She has also been involved in video art for a long time: she collaborated with the Theater in Dlouhá (screening for the production "I Didn't Die…", 2013), or with the Hybernia Theater (screening for the theatrical fairy tale The Snow Queen, 2014). She is the author of screenings for David Koller's tour Czechoslovakia (2015) and visual director of the Lucie group tour from 2016 and 2017. She exhibited at the Týn Literary Café (Sweetheart, 2014), together with other artists she participated in the exhibition Pool (2016), realized in Faculty of Law.