Event date: 01.12. 2021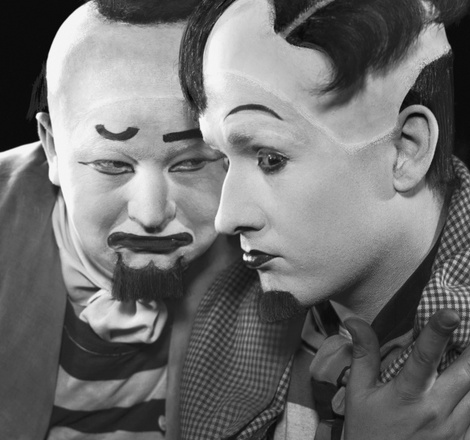 Undoubtedly one of the most important events of the year 2021 is the photographic exhibition of  Alexandr Paul, court photographer of legendary Voskovec and Werich and the "Osvobozené divadlo".

The opening of this unique exhibition will take place on December 1st, 2021 - exactly 40 years after death of Mr. Paul.

The sources of the work of Liberated Theater (Osvobozené divadlo), which was during its eleven-year existence one of the most original phenomena of European drama, can be based mainly on a photographic record, given that there is no other direct evidence of the Liberation Theater's activities. We know only small mentions on the movement side of the productions of the Liberated Theater, the musical component has been analyzed for years not in its own development, but mainly in terms of its functions in the play.
Fortunately, the artistic form of the productions of the Liberated Theater begins with a rich pictorial documentation, a representative collection of original, as yet unpublished photographs, from the rich photo archive of the studio of photographer Alexander Paul. He recorded mainly the profile of the theater since 1932, when it definitively settled in drama and comedy with a satirical focus, reacted to the political events of the pre-Munich Czechoslovakia and formally developed the tradition of comedia dell´arte.

The work of photographer Alexander Paul (1907-1981) is extraordinarily rich in genre. Sixty years of his masterful photographic work shows in its individual stages a sensitive barometer of changes in the development of Czech photography during the 20th century. Thousands of negatives with unrepeatable documentary value were created in his studio, and Alexander Paul's archive and studio was declared a cultural heritage of the Czech Republic in 2005.

The films from the Liberated Theater, created between 1931 and 1938, when they were replaced by the previous photographers Schlosser and Neckář, represent a separate chapter in the work of Alexandra Paula. His work, significantly enhanced by his friendships with Voskovec, Werich and Jaroslav Ježek and their collaboration in Umělecká beseda, shows Paul's reporting skills, in contrast to a certain share of training with photographer Zelenka, one of the first reporter photographers in the 1920s. Over the course of eight years were captured all the plays performed (including the Jaroslav Ježek Orchestra, Jenčíkovic girls, life behind the scenes and the audience).

Curator of the exhibition is PhDr Marcela Stránská.
An art  historian who worked at the Institute of Art History of the Academy of Sciences of the Czech Republic and since 2003 has been the administrator of the Archive of Alexander Paul's studio.